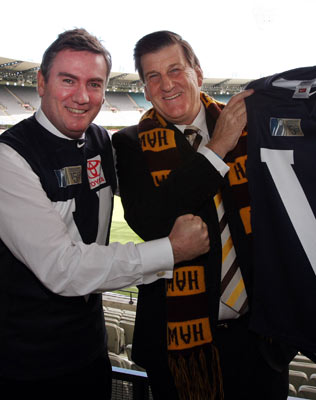 I'm left a little bit speechless after I read this in in the paper today.   Former Premier of Victoria Jeff Kennett (pictured on the right) sticks his nose into the sacking of a gay footy coach.  I really don't know what to say so I'll just let you read the following article.  Jeff is also heavily associated with Beyond Blue, the national initiative to prevent depression.
Jeff Kennett in gay football storm
July 27, 2008 12:01am
Article from: Sunday Herald Sun
The Hawthorn president and potential Melbourne lord mayor sparked calls for his sacking after saying Bonnie Doon Football Club was within its rights to sack veteran trainer Ken Campagnolo after it found out he was gay.
"The club felt that once this had been pointed out and you had this gentleman there who was obviously close to young men – massaging young men – it ran an unnecessary risk and that's why it decided it was best that he not perform those duties again. So the club was trying to do the right thing," Mr Kennett said.
"When you are in charge of a group of young boys, as this club was as I understand it, it's got to make sure."
Mr Kennett said it was as if the club had a pedophile trainer.
"It's the same if you have a pedophile there as a masseur, right?"
"And you might say the pedophile would do no damage, but once it was pointed out to you, you have a duty of care to those underage children not to put them in a situation of risk."
He could not guarantee a gay trainer would be welcome at Hawthorn, adding: "I don't know if we've got any.
"I'm just saying at the moment we have a duty of care to our players and staff and you have to make judgments on that. If you don't do it you end up with potential legal liability."
Mr Campagnolo is fighting the Bonnie Doon Football Club, the AFL and Benalla and District Football League in the Victorian Civil and Administrative Tribunal over his 2007 sacking.
On Friday, the AFL failed in a bid to have his complaint against it struck out, with the tribunal ruling the matter must go to mediation.
Mr Campagnolo said he was appalled by Mr Kennett's remarks.
"I am not a pedophile. Does that mean every straight male doctor cannot treat any female patient?" he said.
Rodney Croome, of the Australian Coalition for Equality, said: "Jeff Kennett should immediately step aside from his role in Beyond Blue."