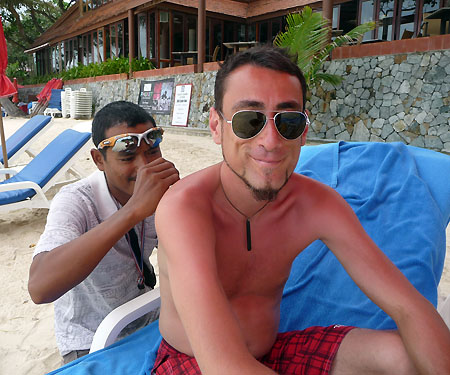 Day 9 and we are still lazing about on Kata Beach in Phuket.  The sun came up during breakfast and we both knew it was time to hit the beach.   There has been a lot of rain here this week so we are taking every sunny opportunity to get out on those lounges and soak up the rays.   We got about 3 hours before the rain came back.  So we headed back to the room (about 12 metres from the sand) to get changed and go out or lunch.
Lunch we fairly average because we had gone into the touristy area of Kata.  But we had fun playing some Connect 4 in the restaurant and seeing who who take the strangest photo.
After lunch we checked out the shops in Kata.  We found that the real bargains are found in the backrooms.  They are not really allowed to sell fakes and copies of big brand handbags, watches and DVDs.  So we bought well over 100 DVDs and I found a new watch.  Of course when we were first taken down an alley into a backroom we had no idea what we were getting ourselves into.  But once in there both Frank and I knew how to drive a hard bargain…   or at least we like to think we did.
Then when we were exhausted we stopped into the Kata Starbucks for a chai tea served to us by one of Phuket's beautiful ladyboys.