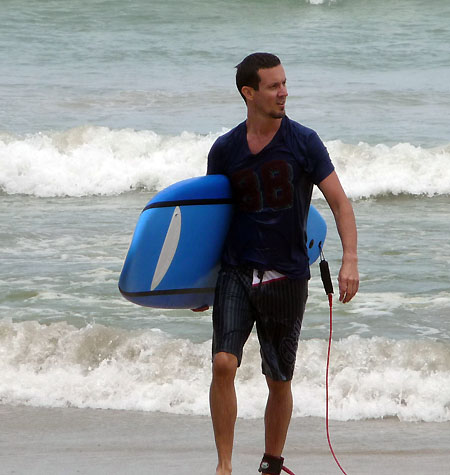 Well today was the last day of our holiday here on Kata beach. This morning we woke up and went down and had our breakfast and the staff seemed to be a little more excited. It was their annual staff party. So they were all dressed with their staff party polo shirt getting organised for all the activities they had planned on the beach.
Thai people have got to be one of the most friendly, fun loving and warm people on this planet. The way they embrace you and make you feel welcome in any situation is really inspiring to see. So watching them have fun on the beach was awesome. One of the games they played reminded me of the Big Brother friday night live games. They had to splash water on their heads and eat this powder from a plate, then run over to the next table where they had to eat a banana, a piece of cake and a bottle of coke, then run over to another table and thread a needle, and then run to another table where they had to blow up a balloon until it burst. It was so much fun to watch!
As we decided yesterday today was going to be our last beach day so we got our gear organised and headed down to claim our spot on the beach lounges. Then we went and got ourselves a surfboard each, well Phillip got a surfboard and I got a boogie board. There were good waves today so this was going to be fun!. After getting in there with the boards I now have more respect for the guys who surf. We got pumbled a few times and caught some waves too. It was a real experience and a good laugh too. I then thought it would be fun to make a sand castle, more so to distract the sellers on the beach from harassing us, which they found amusing. We are so lucky that the weather turned nice for us today. We got heaps of swim time and then headed to the Kata beach BBQ for some lunch and watched the monsoon come in from the ocean.
After lunch we decided that a massage again was in order, so we headed on up to the Rub Tum Massage  behind Kata Mammas where Phillip got a fot massage and pedicure and I got a back and shoulders massage. These massages aren't like the ones you get back home, they do more pressure point massage here using their fingers, elbows and even sticks. You feel great afterwards and it is only 350 Baht which is about 12 bucks! After the massage we returned to the room and watched a couple of episodes of Benidorm. Then it was happy hour again! I've come to appreciate cocktails on this trip and todays cocktails were delicious! Seeing it was our last night here we had a couple each, one was served out of a coconut. You can see it on YouTube.
Every night we have been going to the Kata Mamma Seafood restaurant for dinner. The food is delicious, the staff are great and it is very cheap as well. So tonight we had our last meal here and said goodbye to the beautiful people who were sad to see that we were returning home. After this we went for another walk down the road and had a chat with a few of the suit sellers about their businesses and Kata life, did the last and final shop, (oh my god we have done alot of shopping!) and came back upto the room for the night.
While Phillip was watching Air Crash Investigations I decided to go down for a walk and discovered that there wasn't any staff around. They had all gone to their Staff Party in Phuket. So I chatted for a while with one of the staff and we talked about working here and life growing up in Phuket. It was pretty cool talking with him and his friend. They wanted me to go out dancing with them but I thought it would be better not seeing we have a long day ahead of us tomorrow. So I said goodbye and headed up to bed.
This has been such an awesome holiday. We have had such a good time. Bangkok was great and Phuket was great too. Im sure we will come back here again sometime. Maybe sooner rather than later.