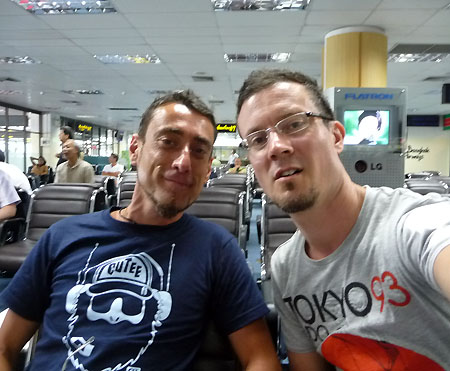 I'm a little bit sad to be writing this post today.   Frank and I have been on the road for the past 11 days exploring Thailand.   It was a pretty quick trip and I'm sure we could have spent a lot more time exploring.  There wasn't a moment that went by that we weren't busy doing something.
The highlights for me were definitely swimming a lot (in the pool and in the ocean), shopping in loads of strange places, meeting lots of beautiful Thai people, and spending time with Frank.
On our last day we had found a private taxi operator to take us back to the airport.   We had our last dinner at Kata Mama Seafood and took our last walk along the southern part of the Kata beach.   We have finally realised that this is a really small community where everyone knows everyone and they all help each other out.  I can't bare to think what it must have been like when then tsunami waves came and ravaged the little village by the water.   They did not deserve it.  The feeling there is that "it won't happen again".
It was a long trip home starting with the long drive to Phuket airport, then the flight to Sydney and then the flight to Melbourne.  Door to door it took about 20 hours.  So I was exhausted by the time I got home.   It was so nice getting to travel to such a nice place with one of my best mates.   It rates as one of the best trips I have ever done.   I guess now I will start dreaming of the next adventure.
The photos from Thailand will be posted up in a gallery very soon.