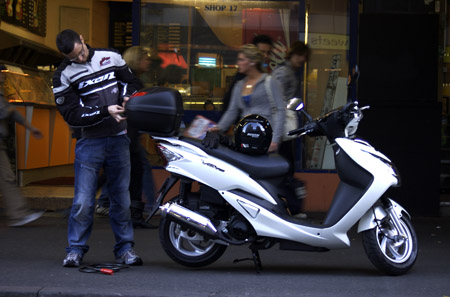 So I picked up the new scooter from Scootacity on Elizabeth Street yesterday.   It took me forever to navigate my way around the city to end up back at my place.   The traffic was really bad.  I guess a more experienced rider would have weaved through the traffic.
And I found the most perfect secure parking station o keep it in too!   All went well riding it over the weekend.  I did accidently end up on the Eastern Freeway but quickly got off at the next exit.   And today I had a terrible experience…  as I zoomed across the intersection of Flinders and Swanston Streets my top box fell off in the middle of the road.  I hadn't secured it correctly.   Luckily a passerby ran out in the road and grab it for me.   I'm glad it didn't cause any accidents.   During my learning period I'm being very wary about not causing problems for other road users.   Living in the middle of the city it's a bit hard to avoid traffic.
As I get more experience I will start to venture further out of the city.