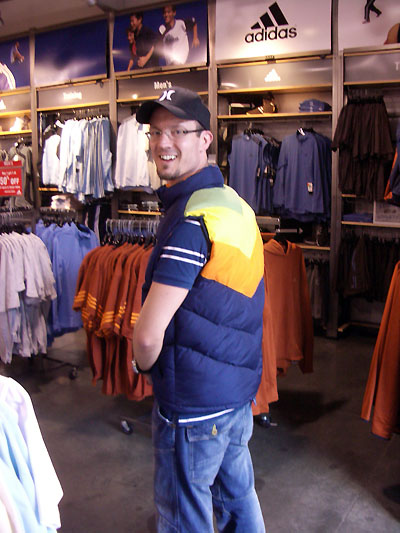 Over the weekend Marc and I rented a car and headed south to Seattle…  which meant driving into the United States again.  We had a 25 minute wait at the border to be questioned by US customs and to get visa waivers.  Then we went south about 2 hours to the Seattle Premium Outlets to do some shopping.   I bought a tonne of gear.   My shoe collection has risen to 9 pairs.   The shopping in the US is so cheap right now with the value of the US dollar decreasing.
Then we headed further south into Seattle.   Seattle is such a beautiful city!   We had the nicest seafood dinner at the Flying Fish restaurant and then an amazing breakfast at Lolas.   The food in Seattle is really good!   Oh….  and we did some more shopping.  And later at night we checked out the Seattle Eagle and Manray bars.   Everyone there seems to be really friendly.   I kinda wished I had more time to spend there.  But Seattle was a last minute addition to this trip.
Tomorrow I start the long trip home to Melbourne via LAX.